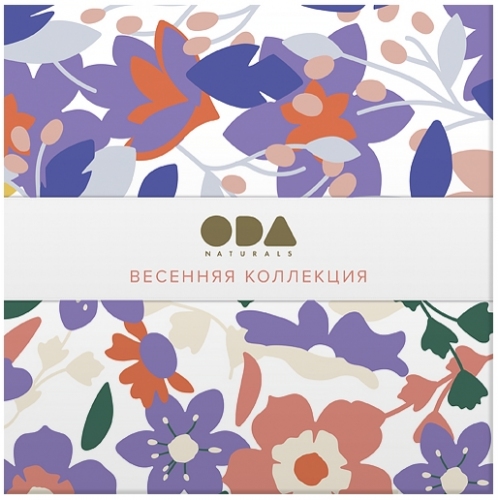 ODA NATURALS (Spring Collection) Hand Cream and Foot Cream
ODA NATURALS Spring Collection includes softening hand cream with jojoba oil and regenerating foot cream with pomegranate extract. They effectively soften, regenerate and nourish the skin.
Read more...
The ODA Naturals Spring Collection includes a Hand Cream soothing with jojoba oil and a Restoring Cream with pomegranate extract. They effectively soften, restore and nourish the skin, providing it with the full-fledged care required in any season.

MAIN COMPONENTS

Complex METAMYKS
Unique development of Russian biotechnologists The METAMYKS complex improves the nutrition of cells, accelerates their renewal, keeps moisture in the skin and increases its protective properties. It is a source of naturally occurring antioxidants and enzymes that promote the production of collagen, a protein that is responsible for the elasticity and density of the skin. METAMYKS contains coenzyme Q10, amino acids, polysaccharides, phospholipids, organic and fatty acids, vitamins A, B, D, F, E, macro and microelements.

Jojoba oil
Forms on the skin the finest epidermal barrier, which protects against loss of moisture and at the same time allows the skin to breathe freely. It has pronounced restoring properties, helps to keep the skin young, smooth and supple.

Pomegranate Extract
Provides intensive moisturizing, nourishing and softening effect, so it is indispensable for dry, flaky skin with an impaired lipid barrier. Thanks to organic acids in its composition helps to restore the skin a healthy color and tone. It is a source of powerful antioxidants, slowing down the age-related skin changes.

Allatoin
Antioxidant properties are not inferior to vitamin C. Reduces the destructive effect of free radicals on cell membranes, prolonging cell life. Actively softens, moisturizes and soothes the skin, has anti-inflammatory properties.

Corn oil
It regulates the permeability of the skin barrier and the ability to retain moisture due to the high content of linoleic acid and lecithin.
Panthenol Effectively reduces skin irritation, softens and moisturizes it thanks to provitamin B5.

Vitamins A, E Vitamins-antioxidants help to slow down the aging process, strengthen the natural protective barrier, eliminate dryness and flaking, smooth the skin of the hands.

Squalene
The most valuable substance, the so-called "vitamin of oxygen". Helps maintain the youthfulness of the skin by saturating the cells with oxygen and improving their breathing.
YOUR CORAL CLUB CONSULTANT
INDEPENDENT DISTRIBUTOR IN CANADA
LEONID MATVIJENKO
Coral Club in other countries