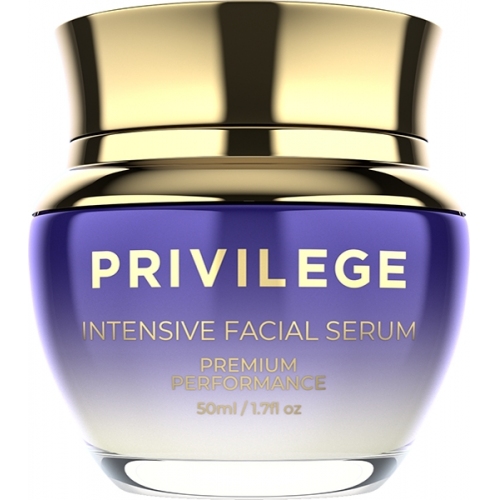 Privilege Serum for face and neck intensive with coffee extract (50 ml)
The unique formula of the serum is designed for the radiance and health of your skin at a cellular level.
Read more...
If you want to find out the price of Privilege Serum for face and neck intensive with coffee extract with a 20% discount in Canada, click on the "Ask for Price" button. In this case, you will be redirected to the official website of the company, where the current price will be displayed. To receive a discount, you need to register.
The unique formula of Privilege Intensive Facial Serum has been developed for radiant and healthy skin at the cellular level. The main functions of this innovative serum are to treat uneven skin tone and texture, signs of aging and fatigue.

Main ingredients:


KONA COFFEE EXTRACT

Repairs the skin, improves circulation and provides energy. Fights bags and pigmentation spots. Protects the skin against harmful external influences.


ARGIRELIN

Active anti-aging component, "Botox in a jar". This is a muscle relaxant peptide that reduces the mimic activity of muscles without altering the natural expression of the face, unlike Botox. With regular use, it significantly reduces the depth of wrinkles, especially around the eyes and forehead.


HYALURONIC ACID

A component necessary for all tissues, but especially for the skin, after a few days of regular use, the firmness and elasticity increase and a general rejuvenating effect is observed. Even the driest skin becomes smooth and velvety.


MARINE COLLAGEN

Obtained from marine fish, stingrays and sharks, because it is closest in structure to humans and contains more useful amino acids compared to animal and vegetable collagen, it has a better penetrating, moisturizing and rejuvenating capacity.


PROLINE AND THREONINE

Amino acids necessary for the formation of two important skin proteins - elastin and collagen. Improve the structure of the skin, accelerate healing and recovery of the skin.


SEA-ALGAE COMPLEX

As a source of easily digestible proteins, vitamins, fibres, amino acids, polysaccharides; moisturizes, saturates and stimulates the functions of skin cell renewal.


VITAMIN E (TOCOPHEROL ACETATE)

Protects the skin against free radicals, prevents premature aging and wrinkles, maintains firmness and elasticity.


VITAMIN A (RETINIL PALMITATE)

A potent anti-aging ingredient, promotes skin cell regeneration, activates collagen synthesis in epithelial tissue and reduces signs of aging.


VITAMIN C (3-O-ETHYL ASCORBIC ACID)

A particularly stable form of ascorbic acid that easily penetrates the dermis. Improves complexion, increases skin elasticity, accelerates collagen synthesis.


ALOE VERA

Wonder Plant, known for its anti-aging effect, stimulates the synthesis of its own collagen, moisturizes and firms the skin, disinfects and heals it and protects against UV exposure.


CHAMOMILE FLOWER EXTRACT (ORGANIC)

Chamomile soothes and softens even the most sensitive skin, normalizes the secretion of sebaceous glands, whitens, promotes regeneration and healing, improves and refreshes the complexion.


COMPOSITION

Aloe Barbadensis Leaf Juice, Glycerin, Water, Soluble Collagen, Hypnea Musciformis Extract, Carbomer, Phenoxyethanol, 3-O-Ethyl Ascorbic Acid, Proline, Threonine, Sargassum Filipendula Extract, Caprylyl Glycol, Sorbitol, Oryza Acetate, Tocopheryl Acetate (Rice Rice) Extract Robusta Seed Extract, Tocopherol, Acetyl Hexapeptide-8, Hexylene Glycol, Trisodium EDTA, Soy Peroxidase, Superoxide Dismutase.
YOUR CORAL CLUB CONSULTANT
INDEPENDENT DISTRIBUTOR IN CANADA
LEONID MATVIJENKO
Coral Club in other countries