The final step of the Health Concept is to strengthen the body's defenses, support immunity and protect cells from aggressive factors. Protection primarily concerns immunity - it especially needs support.

Coral Club has created a set to maintain immunity, accelerate cell regeneration processes and resist negative influences.
Immunity Pack
The
Immunity Pack
program serves to strengthen the immune system, helps to strengthen the body's defenses, increases resistance to negative environmental factors, and helps speed up regeneration processes.
The set includes 5 products: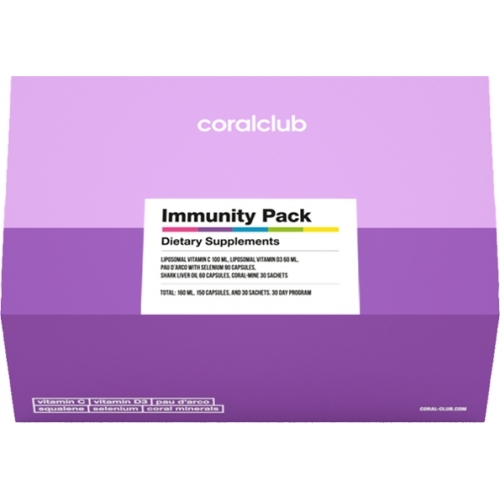 Prevention
By maintaining immunity in good condition, you will get rid of frequent acute respiratory infections, chronic diseases, herpes, pustular skin lesions, joint and muscle pain, malignant neoplasms, chronic fatigue syndrome and many different diseases.
The
Immunity Pack
program is also relevant for the prevention of influenza and SARS during the epidemic season, as well as at the first symptoms of infection.
Recommendations
During the Immunity Pack program, observe the drinking regimen (at least 1.5 liters of water per day). Choose foods rich in vitamins, minerals, and probiotics.

Eat more protein foods, especially the whey protein of Daily Delicious Beauty Shakes. Include fresh vegetables and fruits in your diet daily. Limit your intake of overly salty and sugary foods and strong tea. Give up alcoholic beverages.
How and where to buy Coral Club products
You can buy Coral Club products in Finland with a 20% discount using a discount card. In order to get a free discount card, click on the "Registration at the Coral Club" button, fill out the form on the company's official website and get a club number.

Using the discount card number, you can buy products at a discount not only in your city, but also in other cities and countries.

After registration, you will have a personal consultant who will tell you where to start your recovery and give recommendations on taking products. It will tell you the addresses of stores (sales offices), as well as help you place an order in the company's online store.
YOUR CORAL CLUB CONSULTANT
See also
Coral Club in other countries