Each human organ is made up of trillions of cells. They are born and die, constantly renewed, and so, throughout life. For example, the skin is renewed every 2 weeks, the blood after 150 days, the intestines after 16 years, and so on.

Recovery speed depends on many factors. Basically, from ecology, nutrition, clean water, movement, psychology - a way of life. If you are determined to live long and stay healthy, then take care of the cells. For their life, an aquatic environment is necessary, since they are born and live in it.

To renew organs and rejuvenate the body, cellular nutrition is necessary. What is it, you ask? This is a natural food, natural origin, consisting of herbs. It contains everything necessary for cell division.

Coral Club offers a huge range of products for daily cellular nutrition, consisting of 28 amino acids (21 + 7 essential), 15 minerals, 12 vitamins, 7 enzyme groups and 3 PUFAs.
Nutripack
Nutripack
program - serves to enrich the diet with natural nutrients. They support the work of the cardiovascular, nervous, digestive and immune systems, normalize metabolic and regenerative processes in the body.
The set includes 6 products:
From the variety of products of the Coral Club, we can easily create an individual program. To do this, write to the feedback consultant on our website and get a personal consultation.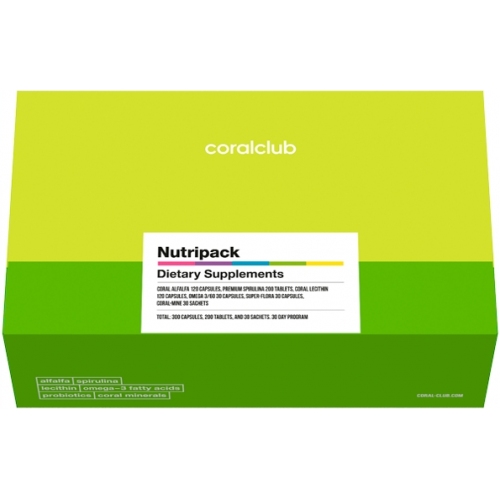 Prevention
The
Nutripack
program is individual, serves to enrich the diet with important nutrients of natural origin.
These products will help restore the work of the cardiovascular, nervous, digestive and immune systems, metabolic and regenerative processes in the body. In addition, you will adjust the weight and restore immunity.
Recommendations
During the program, observe the drinking regime. Eat a variety of foods rich in vitamins and minerals. Add fresh vegetables, fruits and sour milk products to the diet; steam, stew, or bake dishes in the oven.

Eliminate fast carbohydrates (cakes, pastries, buns, ice cream, jam, etc.), salty, smoked and dried foods, strong black tea, coffee and alcoholic beverages. Do not allow breaks between meals for more than 3 hours.
How and where to buy Coral Club products
You can buy Coral Club products in Finland with a 20% discount using a discount card. In order to get a free discount card, click on the "Registration at the Coral Club" button, fill out the form on the company's official website and get a club number.

Using the discount card number, you can buy products at a discount not only in your city, but also in other cities and countries.

After registration, you will have a personal consultant who will tell you where to start your recovery and give recommendations on taking products. It will tell you the addresses of stores (sales offices), as well as help you place an order in the company's online store.
YOUR CORAL CLUB CONSULTANT
Coral Club in other countries