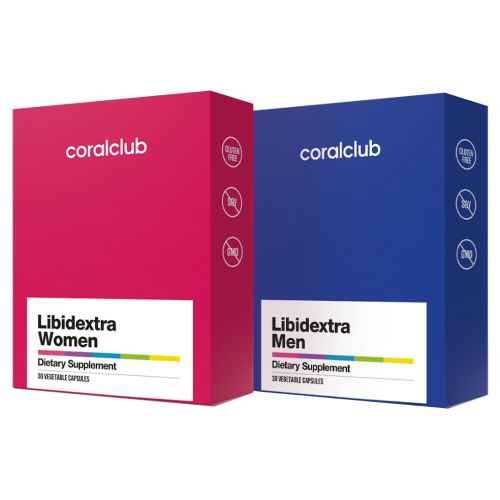 Libidextra Men + Women (Pack)
To purchase Coral Club in Finland product Libidextra Men + Women (Pack), click ASK FOR PRICE. In this case, you will be redirected to the Coral Club official website for free registration. Registration will not take more than 2 minutes and will provide an opportunity to buy a product with a 20% discount.
Experience the power of mutual attraction with products designed to support men and women's health.
Innovative formulas based on natural ingredients to help boost sexual appetite and performance.
Libidextra for Women
Enhance your sensuality and improve your sexual experience with patented fenugreek extract Libifem®. The product will help to:
increase libido;
relieve PMS and menopausal symptoms;
strengthen a woman's attractiveness.
Libidextra for Men
Boost your sexual activity and satisfaction with patented complex EnoSTIM. The product promotes:
sex drive;
healthier erections;
healthier prostate.
Directions
Libidextra For Women: adults take 1-2 capsules daily with meals for 1 month. If necessary, the course can be repeated.
Libidextra Men: adults take 2-3 capsules a day with meals for one month. If desired, this month-long course can be repeated.
Precautions
If you are pregnant or breastfeeding. Consult with your doctor before use. Individual intolerance to the components.
Storage
Store in a dry place protected from direct sunlight and out of reach of children
Shelf life
2 years from the date of manufacture.
Manufactured in
Bulgaria
INGREDIENTS
Libidextra Men - 1 pack (30 herbal capsules), Libidextra Women - 1 pack (30 herbal capsules).
YOUR CORAL CLUB CONSULTANT
Coral Club in other countries