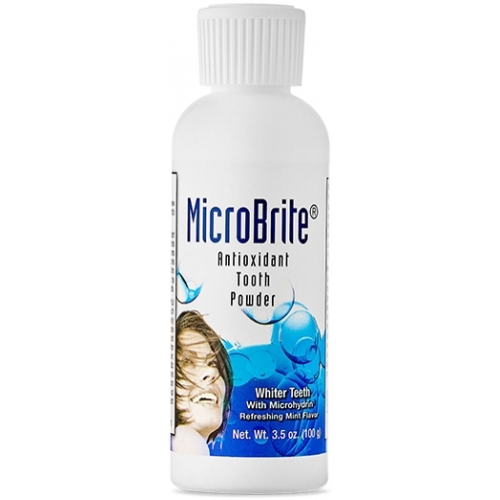 MicroBrite Tooth Powder (100 g)
Discontinued
MicroBrite tooth powder with a refreshing mint flavor is a tooth powder with antioxidant properties that whitens teeth without the use of coarse abrasives.
Read more...
Ingredients: calcium carbonate, sodium carbonate, magnesium carbonate, xylitol, microhydrin, potassium phosphate, mint oil, silicon
dioxide, aloe vera gel, quilaia, sodium alginate, menthol, glycine, potassium benzoate.

Toothpowder "MicroBrite" with a refreshing mint flavor is the world's first toothpaste with antioxidant properties, whiten teeth without using coarse abrasives.

Microhydrin restores the acid-base balance in the oral cavity, prevents the formation of plaque, tartar and unpleasant smell from the mouth.

Xylitol prevents the development of caries. It activates the process of remineralization, inhibits the growth of pathogenic microflora, causing caries and gum disease.

Aloe vera relieves irritation and inflammation of the open roots of the teeth and gums, contributes to their recovery.

Menthol provides an anesthetic, bactericidal and light cooling effect, soothing the injury site, improves, improves blood circulation in the gums, freshens breath for a long time.

Why is the procedure of teeth remineralization necessary?
Increased sensitivity of the enamel, the appearance of cracks in the teeth, the occurrence of caries - all of these unpleasant phenomena result from the washing out of minerals and other trace elements from the enamel. To restore the structure of the tooth, the procedure of enamel remineralization is carried out. This process can be artificial and natural.
YOUR CORAL CLUB CONSULTANT
See also
Coral Club in other countries