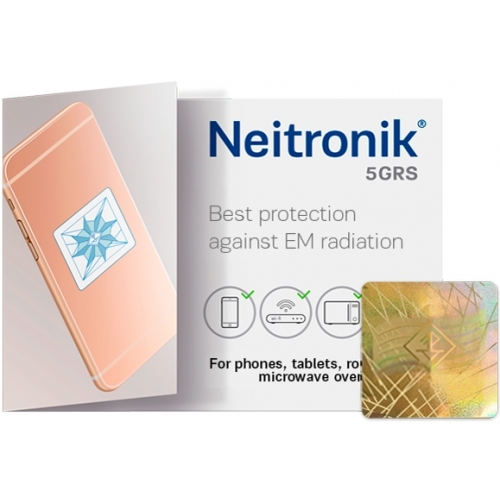 Neitronik 5GRS
Product with increased protection against electromagnetic radiation. Developed for PCs, televisions, radio and mobile phones, microwave ovens, LCD and plasma screens.
Read more...
To purchase Coral Club in Finland product Neitronik 5GRS, click ASK FOR PRICE. In this case, you will be redirected to the Coral Club official website for free registration. Registration will not take more than 2 minutes and will provide an opportunity to buy a product with a 20% discount.
Neitronik is the best available technology for shielding electromagnetic radiation.


NEITRONIK 5GRS

A product with an increased level of protection against EMI, which is especially recommended for those who use modern high-performance versions of smartphones, Wi-Fi routers, tablets and other electronic devices on a daily basis.

The main advantage of Neitronik is that it only works when the device in question is turned on and interacting with its electromagnetic field. Neitronik remains neutral when the device is switched off.


MORE ABOUT THE PRODUCT

Neitronik is a special antenna. The crystal lattice of the antenna has the property of a crystal to absorb and convert electromagnetic energy. The antenna is generated by the emitters of household appliances and creates its own secondary field that interacts with the primary field of the emitters to convert their radiation spectrum into a form that is safe for humans.


APPLICATION

Read the user manual before using the product. Take it out of the packaging, peel off the protective paper and stick it on the device.
YOUR CORAL CLUB CONSULTANT
See also
Featured Products
Coral Club in other countries