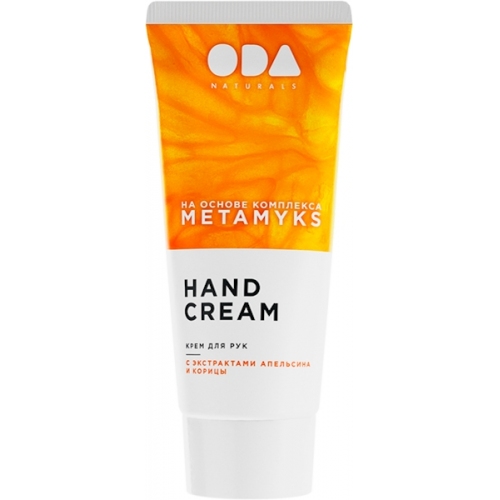 ODA NATURALS Nourishing Hand Cream with extracts of orange and cinnamon (75 ml)
Due to its rich composition, the cream effectively softens and restores, moisturizes and nourishes the skin, providing it with excellent care in season, when it is especially necessary.
Read more...
COMPLEX METAMYKS
A source of natural antioxidants and enzymes that contribute to the production of collagen - a protein that is responsible for the firmness and density of the skin. METAMYKS contains coenzyme Q10, amino acids, polysaccharides, phospholipids, organic and fatty acids, vitamins B, D, F, E, macro- and microelements. It improves the nutrition of cells, accelerates their renewal, retains moisture in the skin and increases its protective properties.

SHI OIL (KARITE)
It activates collagen synthesis, prevents the skin from aging, protects against frost and wind, and eliminates the unpleasant feeling of tightness of the skin. It is perfectly absorbed and protects the skin from moisture loss, eliminates peeling and irritation.

EXTRACT ORANGE
A wonderful moisturizer and toner for the skin. Helps restore normal elasticity, fights unwanted pigmentation. Protects from harmful atmospheric influences (wind, cold).

CINNAMON EXTRACT
Promotes intensive renewal of skin cells. Tones, refreshes, relieves sagging skin.

CORN OIL
Regulates the permeability of the skin barrier and the ability to retain moisture due to the high content of linoleic acid and lecithin.

PANTHENOL
Pantothenic acid derivative. Provitamin B5 actively reduces skin irritation, softens and moisturizes.

SQUALED
The most valuable substance, the so-called "oxygen vitamin". Helps keep skin youthful by saturating cells with oxygen and improving their breathing.
YOUR CORAL CLUB CONSULTANT
See also
Featured Products