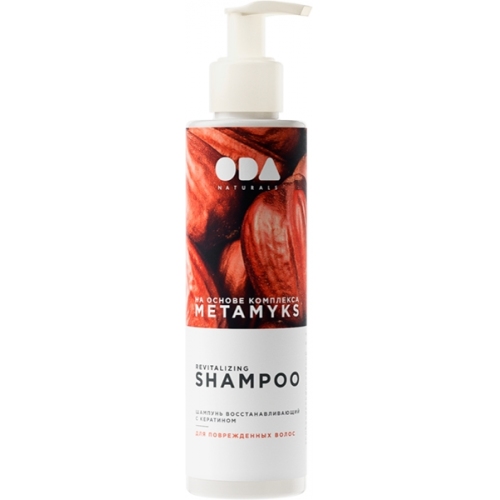 ODA NATURALS Shampoo for hair with keratin (250 ml)
Restoring shampoo for hair, thanks to a mild washing base, provides smoothness, volume and elasticity of hair.
Read more...
Gives hair strength and elasticity.
Returns shine and reduces brittleness.
Facilitates combing and styling.
Promotes hair growth.
FLORALIZIN COMPLEX
Floralizin complex is an extract from mushroom mycelium, which contains natural antioxidants, enzymes with collagenase activity, coenzyme Q10, amino acids, phospholipids, vitamins A, B, D, F, E, trace elements. Has a beneficial effect on the scalp, nourishes and strengthens hair follicles, promotes hair growth.
KERATIN
Keratin is the main structural component of hair. It provides their strength, elasticity, shine, smoothness. Keratin has the ability to penetrate deeply into the hair structure, repairing microdamage and strengthening it along its entire length.
COCAMIDOPROPYL BETAINE
A mild cleansing base derived from coconut oil. Promotes gentle cleansing of the skin, forms an abundant gentle lather that is easily washed off. Does not dry out the skin.
Revitalizing shampoo with keratin is especially recommended for people with thin, dull, damaged hair, after dyeing, perming, as well as for those who often dry their hair with hot air. Suitable for daily use.
YOUR CORAL CLUB CONSULTANT
See also
Featured Products
Coral Club in other countries