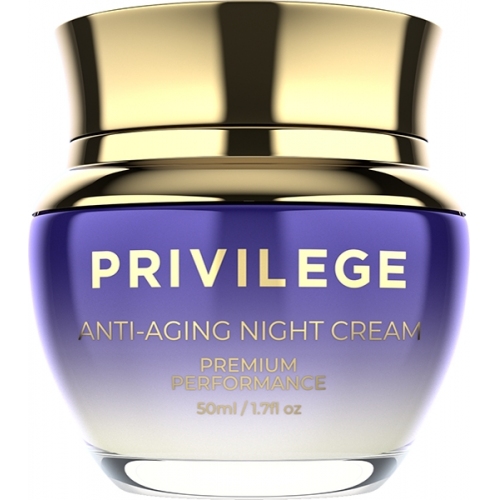 Privilege Face and neck anti-aging night cream (50 ml)
Restores the skin while you sleep, filling it with the most powerful complex of natural ingredients.
Read more...
To purchase Coral Club in Finland product Privilege Face and neck anti-aging night cream (50 ml), click ASK FOR PRICE. In this case, you will be redirected to the Coral Club official website for free registration. Registration will not take more than 2 minutes and will provide an opportunity to buy a product with a 20% discount.
Natural strength of night cream Privilege Anti-Aging Night restores the skin while you sleep, filling it with a powerful complex of natural ingredients. In the morning your skin is soft and rested, ready to shine all day.

Main components:


Coffee Extract

As a source of caffeine improves microcirculation and metabolism. It fills the skin with energy, improves turgor, reduces swelling and soothes irritation.


Argirelin

Actively rejuvenating component, «Botox in the bank». This peptide-muscle relaxant, which reduces the mimic activity of muscles, without changing the natural facial expression, unlike botox. With regular use significantly reduces the depth of wrinkles, especially around the eyes and forehead.


Hyaluronic acid

The component necessary for all tissues, but especially the skin, after several days of regular application increases firmness and elasticity, there is a general rejuvenating effect. Even the driest skin becomes soft and velvety.


Marine Collagen

Obtained from marine fish, stingrays and sharks, because it is the closest in structure to the human and compared to animal and vegetable, marine collagen contains more useful amino acids, has a better penetrating, moisturizing and rejuvenating ability.


Vitamin E (tocopherol acetate)

Protects the skin from free radicals, preventing premature aging and wrinkles, maintains elasticity and elasticity.


Vitamin A (retinyl palmitate)

A powerful anti-age ingredient promotes the regeneration of skin cells, activates the synthesis of collagen in epithelial tissue and reduces the signs of aging.


Vitamin C (3-O-Ethyl Ascorbic Acid)

Especially stable form of ascorbic acid, which easily penetrates into the dermis. Improves the complexion, increases the elasticity of the skin, accelerates the synthesis of collagen.


Fruits of Acai

Polyvitaminic miracle berry from South America with a high content of natural antioxidants, a «beauty and youth berry». As an antioxidant prevents the negative influence of UV radiation and the early aging of the skin, accelerates regeneration processes. The flesh of Asai fruit perfectly nourishes, moisturizes and softens the skin.


Aloe vera

Miracle plant, known for its rejuvenating effect, stimulates the synthesis of its own collagen, moisturizes and tightens the skin, disinfects and heals it, protects it from UV exposure.


Jojoba oil

It is a vegetable wax. Contains a large number of amino acids similar in structure to collagen. Does not clog pores, can quickly penetrate the skin, creating a protective barrier.


Laminaria Extract

Contains a rich composition of microelements, in particular silicon, peptides, polysaccharides, which hinder the aging processes of the skin, increase its elasticity, tone, moisturize and rejuvenate.


COMPOSITION

Aloe Barbadensis Leaf Juice, Caprylic / Capric Triglyceride, Glycerin, Simmondsia Chinensis (Jojoba) Seed Oil, Stearic Acid, Soluble Collagen, Water, Dimethicone, Sorbitan Stearate, Phenoxyethanol, Carbomer, Cetyl Alcohol, Triethanolamine, Glyceryl Stearate, PEG-100 Stearate, Fragrance / Parfum, Panthenol, Squalane, Caprylyl Glycol, 3-O-Ethyl Ascorbic Acid, Ethylhexylglycerin, Hexylene Glycol, Allantoin, Cyanocobalamin, Coffea Robusta Seed Extract, Tocopheryl Acetate, Retinyl Palmitate, Leuconostoc / Radish Root Ferment Filtrate, Euterpe Oleracea Pulp Powder , Myristyl Alcohol, Stearyl Alcohol, Anthemis Nobilis Flower Extract, Laminaria Digitata Extract, Sodium Hyaluronate, Potassium Sorbate, Tocopherol, Acetyl Hexapeptide-8, Trisodium EDTA.
YOUR CORAL CLUB CONSULTANT
See also
Featured Products
Coral Club in other countries