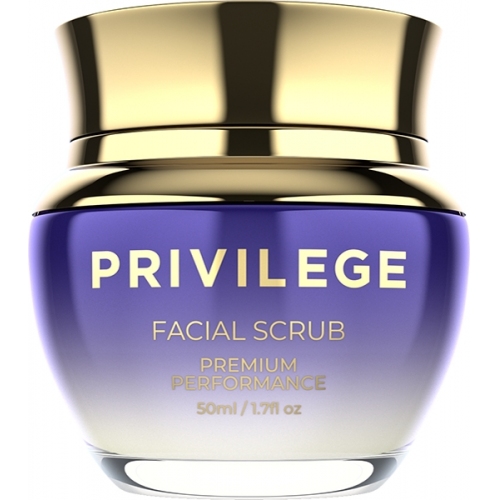 Privilege Facial Scrub with coffee extract and oil (50 ml)
Subtly exfoliates and removes dead skin cells, softens rough spots, gently polishes the skin.
Read more...
To purchase Coral Club in Finland product Privilege Facial Scrub with coffee extract and oil (50 ml), click ASK FOR PRICE. In this case, you will be redirected to the Coral Club official website for free registration. Registration will not take more than 2 minutes and will provide an opportunity to buy a product with a 20% discount.
In addition to coffee extract and oil, the fragrant coffee scrub contains ground coffee beans and ground walnut shells, which gently exfoliate and remove dead cells, soften hardened spots and subtly polish the skin.

Main ingredients:


KONA COFFEE EXTRACT

As a source of caffeine, it improves microcirculation and metabolism. Provides energy, tightens the skin, reduces puffiness and irritation.


KONA COFFEE OIL

Stimulates the production of collagen and has a positive effect on skin regeneration processes. Increases skin elasticity by accelerating the transport of active ingredients.


WALNUT SHELL

Ground walnut shell gently exfoliates and removes dead cells, softens rough areas and polishes the skin.

GROUND KONA COFFEE BEANS
These have a very delicate texture, help gently remove dead skin particles, cleanse and smooth the skin.


ALOE VERA

Wonder Plant, known for its anti-aging effect, stimulates the synthesis of its own collagen, moisturizes and firms the skin, disinfects and heals it, protects against UV exposure.


CHAMOMILE FLOWER EXTRACT (ORGANIC)

Chamomile soothes and softens even the most sensitive skin, normalizes the secretion of the sebaceous glands, promotes regeneration and healing, improves and refreshes the complexion.


VITAMIN E (TOCOPHEROL ACETATE)

Protects the skin against free radicals, prevents premature aging and wrinkles, maintains firmness and elasticity.


VITAMIN A (RETINIL PALMITATE)

A potent anti-aging ingredient, promotes skin cell regeneration, activates collagen synthesis in epithelial tissue and reduces signs of aging.


SUPEROXIDE DISMUTASE AND PEROXIDASE

Super antioxidants, superior in activity to vitamins A and E. They help remove their own toxins from skin cells.


MARINE COLLAGEN

Obtained from marine fish, rays and sharks, as it is closest in structure to humans. Marine collagen contains more beneficial amino acids than animal and vegetable collagen, has better penetrating, moisturizing and rejuvenating ability.


COMPOSITION

Aloe Barbadensis Leaf Juice, Propylene Glycol, Caprylic/Capric Triglyceride, Pentylene Glycol, Coffea Arabica (Coffee) Seed Powder, Juglans Regia (Walnut) Shell Powder, Carbomer, Cetearyl Alcohol, Water, Phenoxyethanol, Caprylyl Glycol, Ceteareth-20, Coffeareth-20 Seed Oil, Sodium Hydroxide, Tocopheryl Acetate, Soluble Collagen, Retinyl Palmitate, Glycerin, Sorbic Acid, Oryza Sativa (Rice) Extract, Coffea Robusta Seed Extract, Chamomilla Recutita (Matricaria) Flower Extract, Tocopherol, Leuconostoc/Radishostoc/Radishostoc/Radishostoc/Radishostoc Fermentum Filtrate-1 , Leuconostoc Ferment Filtrate, Potassium Sorbate, Soy Peroxidase, Superoxide Dismutase, Trisodium EDTA, Caramel.
YOUR CORAL CLUB CONSULTANT
See also
Featured Products