Detoxification is a cleansing complex aimed at removing toxins from the body. Accumulating in the intercellular fluid, they destroy the body from the inside, causing many diseases. Theoretically, this is a poison that enters the human body through air, food, clothing, water.
The body cannot always get rid of toxins on its own. Violating the process of their regular removal, conditions are created for the development of intoxication. Usually intoxication occurs without symptoms. Toxins are excreted through the intestines and kidneys, but if these organs do not cope, then the skin and lungs are connected.
Toxins are:
Water-soluble - they are 80% in the body. You can neutralize and remove them with the help of an antioxidant and a water enricher.
Fat-soluble - their 20%. You can neutralize them with a plant enzyme and lecithin.
Coral Club has developed universal kits that include products for the removal of exotoxins (ingested with food, water and air) and endotoxins (formed during the life of cells).
For maximum effect, detox once a quarter. The course of the programs listed below lasts 1 month.
Coral Detox
The
Coral Detox
program is a trigger mechanism for neutralizing and removing fat- and water-soluble toxins from cells and intercellular space. By creating conditions for the active work of the immune system, the body and health in general are restored.
The set includes 4 products: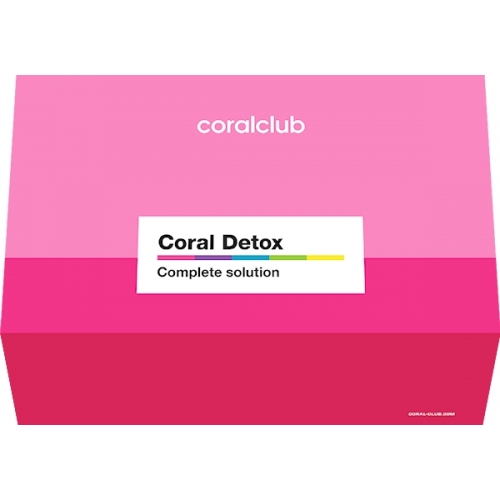 Coral Detox Plus
The
Coral Detox Plus
set is an extended version of the Coral Detox program. This set not only comprehensively and delicately cleanses each cell of toxins, but also ensures self-regulation of the body.
The set includes 6 products: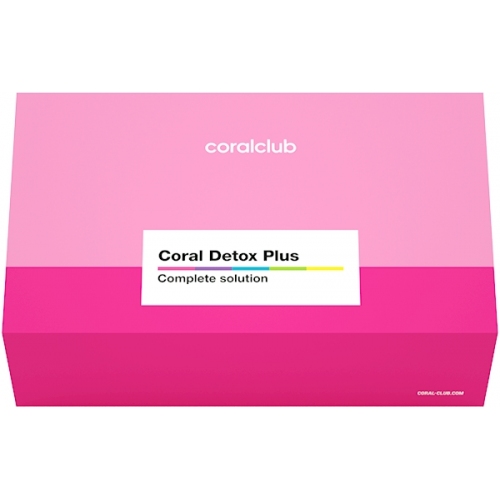 Prevention
The above detox kits provide a natural removal of toxins from the body and create conditions for the restoration of the active work of their own regulatory mechanisms.

With the help of these programs, excess weight will go away, efficiency and energy will return, the work of the gastrointestinal tract will be restored, blood sugar levels will return to normal, lipomas will resolve (after about 4-6 months of taking the products).
Recommendations
Stay hydrated while detoxing. Eat a variety of foods rich in vitamins and minerals. Include fresh vegetables and fruits, sour-milk products in the diet, cook dishes for a couple, stew, bake.

Eliminate fast carbohydrates (cakes, pastries, buns, ice cream, jam, etc.), salty, smoked and dried foods, strong black tea, coffee and alcoholic beverages. Do not allow breaks between meals for more than 3 hours.
YOUR CORAL CLUB CONSULTANT
INDEPENDENT DISTRIBUTOR IN GREECE
VALENTYNA PONIATOVSKA
How and where to buy
With a discount card you can buy Coral Club products with a 20% discount in Greece. To get a free discount card, click on the button «Registration with Coral Club», fill in the form and you will receive by mail your customer number and a link to the website where you can place your orders.

With this discount card number you can also buy products at a discount in other countries.

After registration I can become your personal consultant. I can tell you how to start your recovery and can advise you on how to use the products of this program, or other programs and/or products from Coral Club. I can also help you place an order on the company's online store.
Coral Club in other countries