Each human organ is made up of trillions of cells. They are born and die, constantly renewed, and so, throughout life. For example, the skin is renewed every 2 weeks, the blood after 150 days, the intestines after 16 years, and so on.

Recovery speed depends on many factors. Basically, from ecology, nutrition, clean water, movement, psychology - a way of life. If you are determined to live long and stay healthy, then take care of the cells. For their life, an aquatic environment is necessary, since they are born and live in it.

To renew organs and rejuvenate the body, cellular nutrition is necessary. What is it, you ask? This is a natural food, natural origin, consisting of herbs. It contains everything necessary for cell division.

Coral Club offers a huge range of products for daily cellular nutrition, consisting of 28 amino acids (21 + 7 essential), 15 minerals, 12 vitamins, 7 enzyme groups and 3 PUFAs.
Nutripack
Nutripack
program - serves to enrich the diet with natural nutrients. They support the work of the cardiovascular, nervous, digestive and immune systems, normalize metabolic and regenerative processes in the body.
The set includes 6 products:
Coral Alfalfa
- Alfalfa leaf juice and grass powder. Contains the most important minerals for the body, vitamins, fiber, organic acids and chlorophyll. It gently enhances the work of the kidneys, helps with elevated cholesterol levels and creates favorable conditions for the vital activity of the intestinal microflora, helping to cleanse the body.
SpirulMine is a 100% natural composition without auxiliary components. This is a storehouse of biologically active substances: vegetable protein, chlorophyll, a rare antioxidant - phycocyanin, vitamins C, E, B, beta-carotene, minerals and polyunsaturated fatty acids. Helps improve metabolism, helps control weight and protects against premature aging.
Coral Lecithin
is the building material and foundation of all cell membranes in the body. It is necessary for the functioning of the brain, cardiovascular system and liver. This is a smart food supplement that a person needs throughout his life.
Omega 3/60
are essential polyunsaturated fatty acids that are not synthesized in the human body, which is why it is so important to get enough of them from food to strengthen the immune system and maintain the normal functioning of the cardiovascular system.
B-Kurunga
is a symbiotic concentrate of naturally occurring probiotics and zinc to improve intestinal microflora. Promotes digestion and strengthens the immune system.
Coral-Mine
is a mineral composition capable of changing the physical and chemical properties of water, the acid-base balance (pH) towards alkalization. The ionized form of
Coral-Mine
minerals makes water beneficial and bioavailable to the body.
From the variety of products of the Coral Club, we can easily create an individual program. To do this, write to the feedback consultant on our website and get a personal consultation.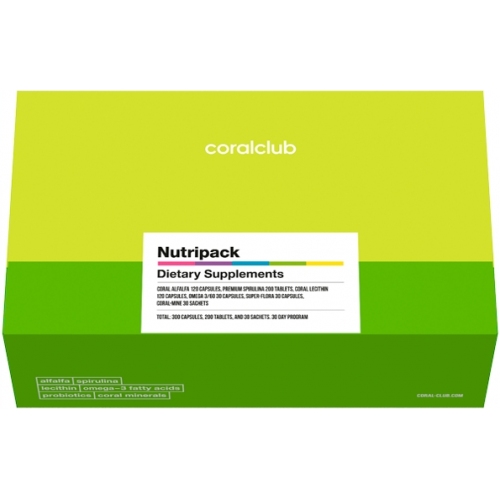 Prevention
The
Nutripack
program is individual, serves to enrich the diet with important nutrients of natural origin.
These products will help restore the work of the cardiovascular, nervous, digestive and immune systems, metabolic and regenerative processes in the body. In addition, you will adjust the weight and restore immunity.
Recommendations
During the program, observe the drinking regimen. Eat a variety of foods rich in vitamins and minerals. Include fresh vegetables and fruits, sour-milk products in the diet, cook dishes for a couple, stew, bake.

Eliminate fast carbohydrates (cakes, pastries, buns, ice cream, jam, etc.), salty, smoked and dried foods, strong black tea, coffee and alcoholic beverages. Do not allow breaks between meals for more than 3 hours.
YOUR CORAL CLUB CONSULTANT
INDEPENDENT DISTRIBUTOR IN GREECE
VALENTYNA PONIATOVSKA
How and where to buy
With a discount card you can buy Coral Club products with a 20% discount in Greece. To get a free discount card, click on the button «Registration with Coral Club», fill in the form and you will receive by mail your customer number and a link to the website where you can place your orders.

With this discount card number you can also buy products at a discount in other countries.

After registration I can become your personal consultant. I can tell you how to start your recovery and can advise you on how to use the products of this program, or other programs and/or products from Coral Club. I can also help you place an order on the company's online store.
Coral Club in other countries