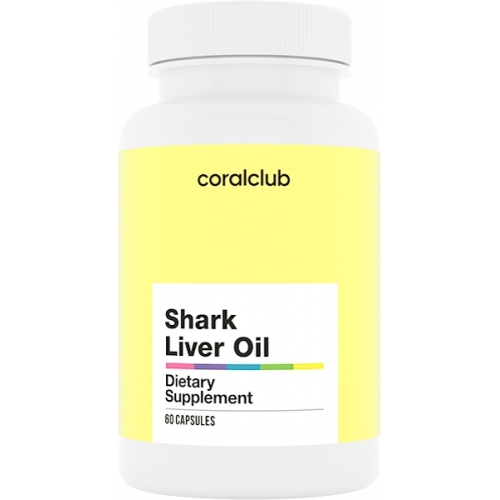 Shark Liver Oil (60 capsules)
Shark liver oil is a natural antibiotic that is needed to restore the body. Normalizes metabolism, breaks down cholesterol plaques.
Read more...
To find out the cost of Shark Liver Oil, click GET A PRICE. You will be directed to the official website of the company, where the actual price of the product will be displayed. After free and quick registration, you will be given 20% on all products of the company. Also, after registration, you will be provided with a personal consultant (distributor) of the Coral Club in Greece who will answer all questions about the product and help you order the product.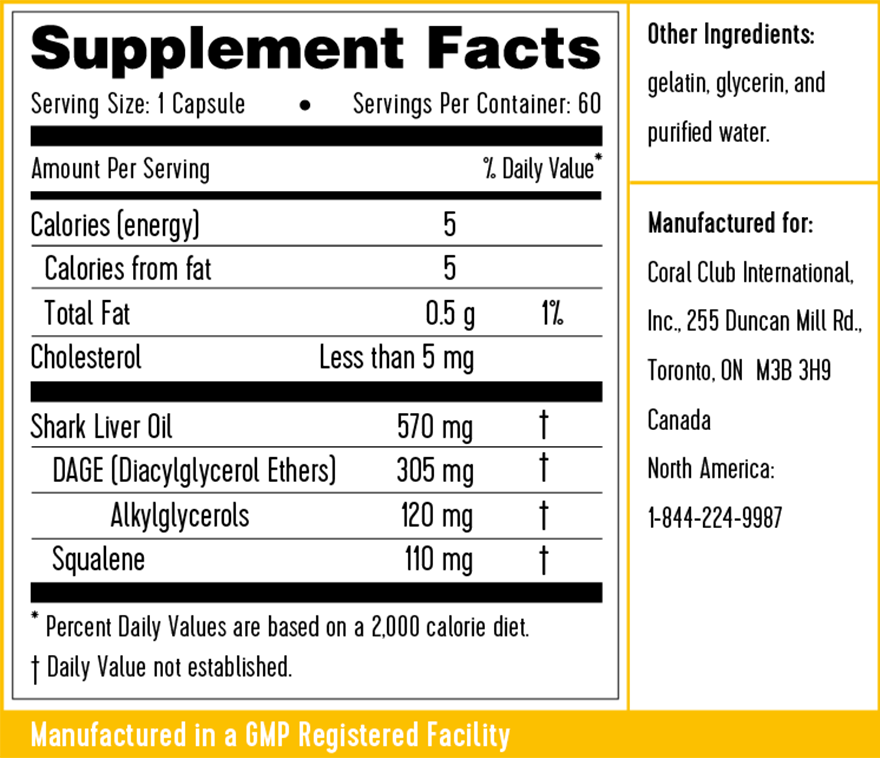 Shark Liver Oil is a 100% natural product made from the liver of deep sea sharks living off the coast of Tasmania. It provides the human body with essential substances such as alkylglycerols, squalene, omega-3 polyunsaturated fatty acids, and the vitamins A, E, and D. The product boosts immune system and speeds up recovery after illnesses and stress. The supplement helps reduce the risk of fatty plaque forming in the blood vessels and supports the immune system. It helps maintain normal function of cardiovascular and nervous systems and the eyes.


SHARK LIVER OIL

Shark liver oil contains Alkylglycerols and Squalene active components that might have activity against colds, flu, and some chronic infections.


ALKYLGLYCEROLS

Alkylglycerols may strengthen the body's immune response, increase cell-protecting abilities, promote wound healing, boost the recovery of white blood cells, which are important in immune defense.


SQUALENE

An antioxidant Squalene helps to boost immune system, is also beneficial for heart, bones and digestive system health. It helps cells to absorb oxygen, protects the mucus membranes of the GI tract, strengthens the immune system and accelerates recovery from fatigue.


DIRECTIONS

Two capsules daily with a meal.


PRECAUTIONS

If pregnant or nursing, consult your healthcare practitioner before taking this product.


STORAGE

Keep out of reach of children. Protect from heat, light, and moisture. Store in a dry place at MAX. 25°С.


SHELF LIFE

2 years


MANUFACTURED IN

USA
YOUR CORAL CLUB CONSULTANT
INDEPENDENT DISTRIBUTOR IN GREECE
VALENTYNA PONIATOVSKA
Coral Club in other countries