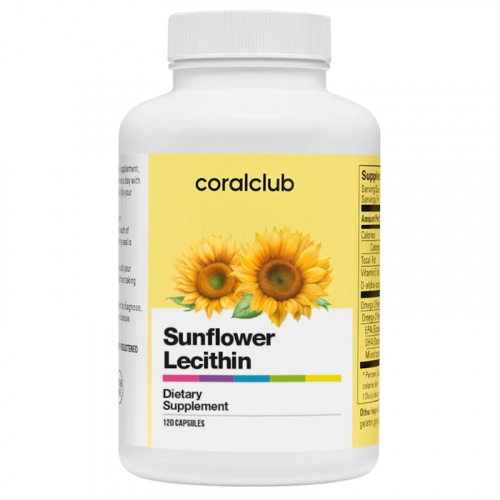 Sunflower Lecithin (120 capsules)
Sunflower lecithin is high in phospholipids - a necessary "building material" for the health of every cell.
Read more...
90% sunflower lecithin phospholipids in each capsule.
Supports the health and normal functioning of the liver, brain, heart, and intestines.
Does not contain GMOs.
Suitable for people with soy allergies.
Lecithin is a complex of essential compounds - phospholipids. These substances are part of all cell membranes and determine their elasticity and integrity, which helps maintain the healthy functionality of cells and tissues. The liver needs phospholipids the most. They help it perform its main function - to filter harmful substances, and also protect liver cells and restore them when damaged. Phospholipids are also important for brain function. They are part of the myelin sheath of nerve fibers, the state of which determines the speed of reaction, coordination of movements, and speed of information processing.
In addition, phospholipids protect nerve cells from oxidative stress caused by increased levels of tension, lack of sleep, and bad habits. Phospholipids support heart and vascular health. They are involved in binding and removing excess "bad" cholesterol from the body. Phospholipids are essential for the health of the gastrointestinal tract and digestion in general. They help restore the intestinal mucosa, which prevents the penetration of harmful substances and pathogenic microorganisms, and also improve the digestion of fats and the absorption of fat-soluble vitamins A, D, E and K.
Sunflower seeds are a valuable source of lecithin for dietary supplements. They are obtained from non-GMO modified varieties. Sunflower lecithin is suitable for people with allergies to soy and soy products. The capsule contains only lecithin powder with a pleasant taste and light aroma of sunflower seeds and no excipients. The capsules are convenient to take orally and can also be opened and lecithin powder added to salads and other dishes.
YOUR CORAL CLUB CONSULTANT
Coral Club in other countries