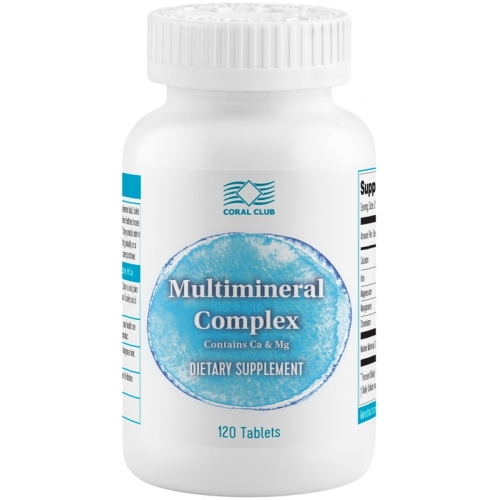 MultiMineral Complex MagiCal (120 tablets)
A unique source of minerals from natural marine sediments formed in the Sea of ​​Japan.
Read more...
To purchase Coral Club in Norway product MultiMineral Complex MagiCal (120 tablets), click ASK FOR PRICE. In this case, you will be redirected to the Coral Club official website for free registration. Registration will not take more than 2 minutes and will provide an opportunity to buy a product with a 20% discount.
Natural source of macro- and micro-elements calcium, magnesium, iron, zinc, copper, manganese, chromium obtained from natural marine sediments from the Sea of ​​Japan.

These minerals are absorbed better and more completely, reduce the risk of developing diseases related to mineral imbalance and are necessary for the proper formation and strengthening of bone tissue, cartilage and ligaments and the normal course of metabolic processes.


CALCIUM

Necessary for bone formation and strengthening, regulation of neuromuscular conduction, maintenance of stable heart rate and heart function, improves digestion and enzymatic processes.


MAGNESIUM

Important for heart function, maintaining healthy bone density, ensuring optimal absorption of calcium and preventing its excretion from the body. Magnesium relaxes the muscles and regulates metabolism, increasing the amount of proteins synthesized and the amount of energy produced by the body.


ZINC AND COPPER

These promote tissue healing, maintain proper blood composition, boost immunity, and participate in the synthesis of myelin - the sheath of nerve fibers.


METHOD OF USE

Adults - 2 tablets 2 times a day with meals.


CONTRAINDICATIONS

Individual intolerance to the components, pregnancy, lactation. It is recommended to consult a doctor before use.


STORAGE

Store in a dry place, protected from direct sunlight, out of the reach of children, at a temperature not exceeding +25°C.


SHELF LIFE

2 years from date of manufacture


MANUFACTURE

USA
YOUR CORAL CLUB CONSULTANT
Featured Products