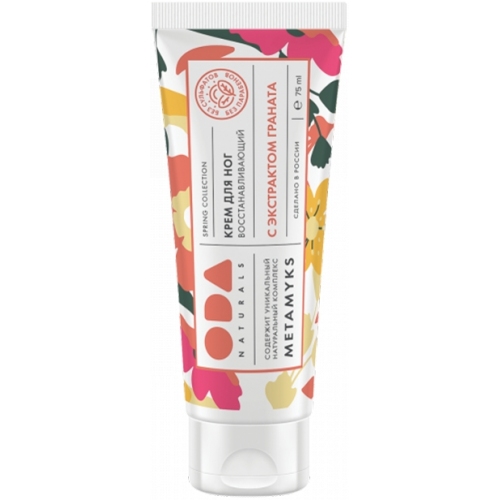 ODA NATURALS Restoring Foot Cream with Pomegranate Extract (75 ml)
Due to its rich composition, the cream restores, moisturizes and nourishes the skin, providing it with excellent care in season, when it is especially necessary.
Read more...
COMPLEX METAMYKS
It improves the nutrition of cells, accelerates their renewal, retains moisture in the skin and increases its protective properties. It is a source of natural antioxidants and enzymes that contribute to the production of collagen - a protein that is responsible for the elasticity and density of the skin. METAMYKS contains coenzyme Q10, amino acids, polysaccharides, phospholipids, organic and fatty acids, vitamins B, D, F, E, macro- and microelements.

POMEGRANATE EXTRACT
Provides an intensive moisturizing, nourishing and softening effect, therefore it is indispensable for dry, flaky skin with a broken lipid barrier. Thanks to organic acids in its composition, it helps to return to the skin a healthy color and tone. It is a source of powerful antioxidants that slow down age-related skin changes.

ALLANTOIN
The antioxidant properties are not inferior to vitamin C. It reduces the destructive effect of free radicals on cell membranes, prolonging the life of the cell. Actively softens, moisturizes and soothes the skin, has anti-inflammatory properties.

CORN OIL
Regulates the permeability of the skin barrier and the ability to retain moisture due to the high content of linoleic acid and lecithin.

PANTHENOL
Effectively reduces skin irritation, softens and moisturizes it thanks to provitamin B5.

VITAMINS A, E
Antioxidant vitamins help slow down the aging process, strengthen the natural protective barrier, eliminate dryness and peeling, smooth the skin of the hands.

SQUALED
The most valuable substance, the so-called "oxygen vitamin". Helps keep skin youthful by saturating cells with oxygen and improving their breathing.
YOUR CORAL CLUB CONSULTANT
See also
Featured Products