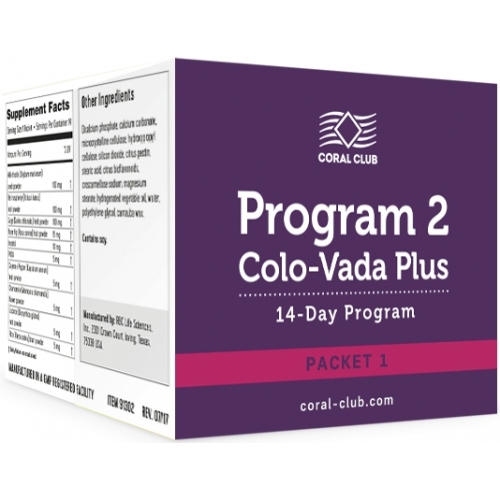 Program 2 Colo-Vada Plus packet 1
In the process of complex measures to cleanse the body (diets, starvation, etc.) You can use the Colo-Vada Plus, which is designed to optimize the process of purification and preservation of vitamin-mineral balance.
Read more...
You can use the 2 Kolo Vada Plus Program as a part of the complex measures to purify your body (diet, fasting, etc.). This program contains recommendations regarding consistency and rules of taking the certain types of products designed to optimize the purification process and maintain the vitamin and mineral balance.

Program 2 covers 14 days and includes 3 phases, which makes it possible to increase the efficacy of body waste elimination to its maximum, improve GIT function, preserve beneficial gut microflora, normalize vitamin-mineral balance during dieting, supply the body with useful substances, and minimize discomfort.
YOUR CORAL CLUB CONSULTANT
See also
Featured Products