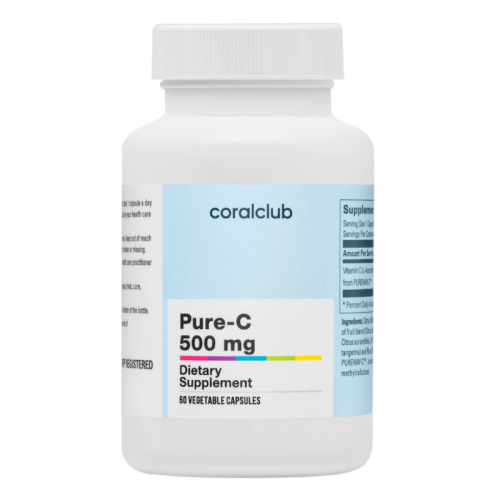 Pure-C 500 mg (60 vegetable capsules)
All the valuable properties of vitamin C (500 mg) in a well-absorbed and safe form of PUREWAY-C™.
Read more...
To purchase Coral Club in Norway product Pure-C 500 mg (60 vegetable capsules), click ASK FOR PRICE. In this case, you will be redirected to the Coral Club official website for free registration. Registration will not take more than 2 minutes and will provide an opportunity to buy a product with a 20% discount.
PUREWAY-C™ is a modern, patented form of vitamin C with enhanced absorption. It contains vitamin C in the form of L-ascorbic acid, combined with a blend of plant fatty acids that facilitate delivery of vitamin C to cells, and citrus bioflavonoids that protect it from premature oxidation. PUREWAY-C™ has been scientifically proven to be retained 233% longer in the body than regular ascorbic acid, and is well tolerated.

Vitamin C is not synthesized in the human body and can only come from food and dietary supplements. Vitamin C is a water-soluble vitamin and the human body is not able to store it, so you need a regular intake of this essential substance. Vitamin C is a powerful antioxidant and protects cells from premature aging caused by oxidative stress. Vitamin C is involved in the synthesis of collagen, which is necessary for blood vessels, bones, teeth, cartilage, gums, an skin. It supports the immune and nervous systems, participates in cellular energy production and helps reduce fatigue.



Directions

Take 1 capsule daily with food or right after meals.


Precautions

Individual intolerance to the components, pregnancy, breast-feeding. Consult a physician before use.


Storage

Store in a dry place, out of reach of children, away from direct sunlight at a temperature not exceeding 75°F. Do not use if the protective label is broken or missing.


Shelf life

2 years from production date.


Manufactured in

USA


INGREDIENTS

Vitamin C (L-ascorbic acid) from PUREWAY-C™ 500 mg, citrus bioflavonoids from a mixture of fruit extract (Citrus sinensis, Citrus limon, Citrus aurantifolia, Citrus reticulata, Citrus tangerina), mixture of fatty acids from the shell of rice (Oryza sativa L), other ingredients.
YOUR CORAL CLUB CONSULTANT
Featured Products