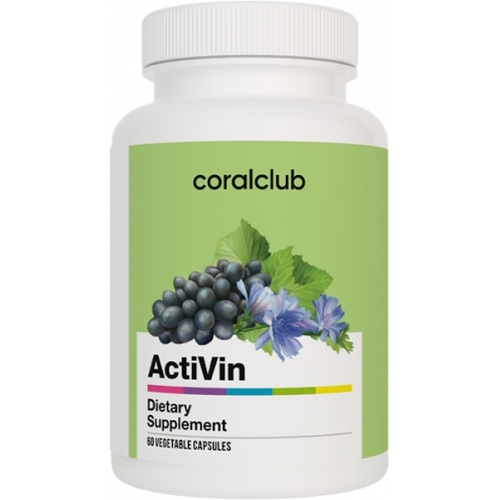 ActiVin (60 Capsules)
ActiVin is a biologically active dietary supplement product based on red grape seed extract. It contains a variety of natural antioxidants that actively bind free radicals, slow down the process of aging, boost energy and stamina, and stabilize vital body functions.
Read more...
If you want to find out the price of ActiVin with a 20% discount in Toronto, click on the "Ask for Price" button. In this case, you will be redirected to the official website of the company, where the current price will be displayed. To receive a discount, you need to register.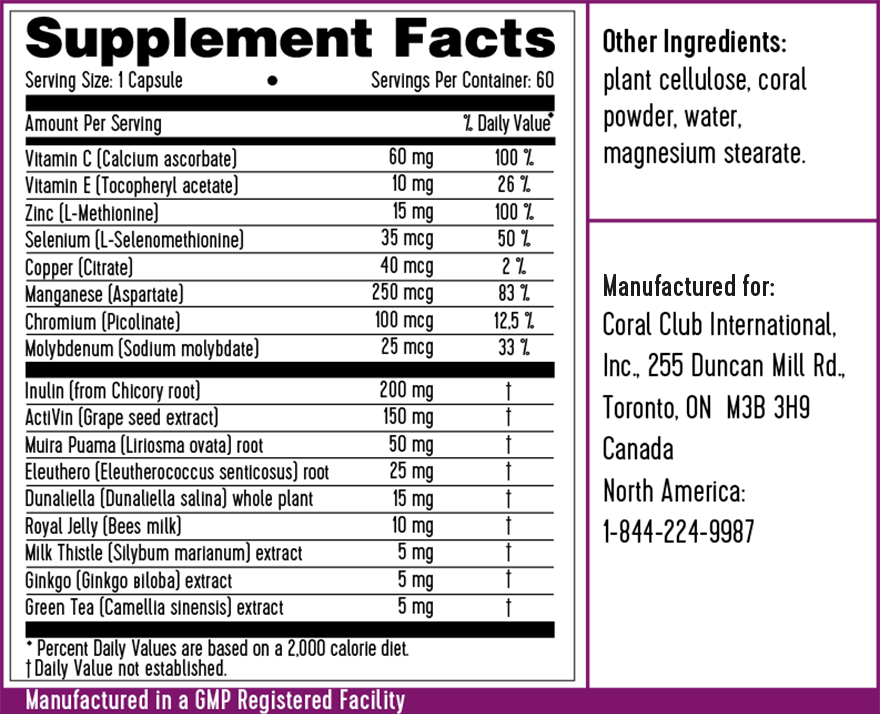 INGREDIENTS

Inulin (from Chicory root) 200 mg; ActiVin (Grape seed extract) 150 mg; Vitamin C 60 mg; Muira puama root 50 mg; Eleuthero root 25 mg; Dunaliella whole plant 15 mg; Zinc 15 mg; Royal jelly (Bees milk) 10 mg; Vitamin E 10 mg; Milk thistle extract 5 mg; Ginkgo extract 5 mg; Green tea extract 5 mg; Manganese 250 mcg; Chromium 100 mcg; Copper 40 mcg; Selenium 35 mcg; Molybdenum 25 mcg; other ingredients.


GRAPE SEED EXTRACT

Contains polyphenolic compounds that are believed to lower the bad cholesterol in the blood, reducing risk of clogged arteries.


GINGKO BILOBA AND GREEN TEA

Natural antioxidants that also improve circulation and strengthen the blood vessels.


VITAMIN C, VITAMIN E

Protect cells from free radicals and activate the immune system.


ELEUTHERO, MILK THISTLE

Components act as a general tonic, increasing stamina and work productivity.


CHICORY ROOT INULIN

Provides a rapid energy boost, it activates the gut flora, improving nutrient absorption.


DUNALIELLA SALINA ALGAE

Contains beta-carotene, one of world's most potent antioxidants.


DIRECTIONS

One capsule daily with a meal


PRECAUTIONS

If pregnant or nursing, consult your healthcare practitioner before taking this product.


STORAGE

Keep out of reach of children. Protect from heat, light, and moisture. Store in a dry place at MAX. 25°С.


SHELF LIFE

2 years


MANUFACTURED IN

USA
YOUR CORAL CLUB CONSULTANT
INDEPENDENT DISTRIBUTOR IN TORONTO
LEONID MATVIJENKO
Coral Club in other countries