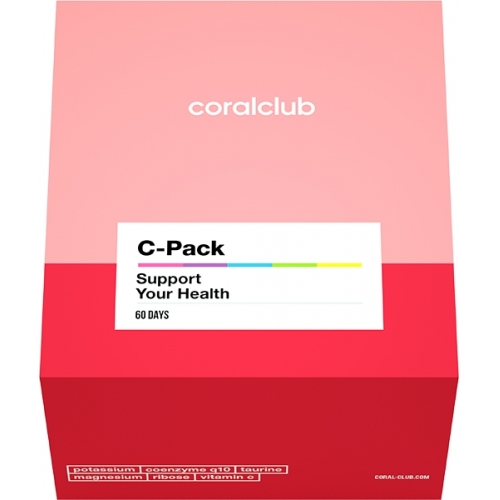 #803701
Cardiopack
Cardiopack – is a set for a healthy heart. The products in the set are perfectly combined to provide nutrients and energy to the cells of the heart and ensure the proper functioning of the cardiovascular system.
Read more...
To buy Cardiopack in Brunei, click GET A PRICE. After that, you will be taken to the official website of Coral Club, where you can make a purchase with a 20% discount.
PENTOKAN

Is a source of potassium. It helps to quickly replenish the heart's energy resources and helps to deal with oxidative stress. The unique combination of potassium, ribose and vitamin c, in effervescent tablets, maximizes bioavailability.


COENZYME Q10

Is part of the mitochondria cells that generate about 95% of all the energy in the human body. With age, the body gradually loses its ability to synthesize this coenzyme. This coenzyme normalizes the function of these organs, improves physical endurance and slows down aging.


CORAL TAURINE

Is a highly bioactive amino acid that regulates calcium, potassium, magnesium and sodium in the body, which all effect the functioning of the heart. Taurine lowers the levels of bad cholesterol and helps to stave off the effects of aging.


CORAL MAGNESIUM

Contains highly bioavailable forms of magnesium - magnesium glycinate and magnesium taurate. This dietary supplement actively supports cardiovascular health and neuromuscular tissue function. The product contributes to the synthesis of enzymes, it normalizes metabolism, and actively regulates the calcium and sodium balance on a cellular level.
YOUR CORAL CLUB CONSULTANT
Countries where you can buy Coral Club products
AM
AT
BE
BG
BY
CA
CH
CZ
DE
DK
EE
ES
FI
FR
GB
GE
GR
HR
HU
IE
IL
IT
KG
KZ
LT
LV
MD
ME
MN
NL
NO
PL
PT
RO
RU
SE
SI
SK
TJ
TM
UA
US
UZ