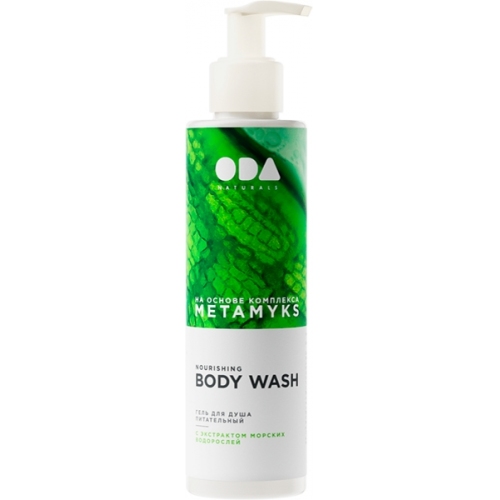 ODA NATURALS Nourishing Shower Gel with Seaweed Extract (250 ml)
Thanks to the natural active ingredients and a mild detergent base, the nourishing shower gel with seaweed extract provides delicate skin cleansing and effective skin care.
Read more...
COMPLEX METAMYKS

The natural complex improves the nutrition of cells, accelerates their renewal, retains moisture in the skin and increases its protective properties. It is a source of antioxidants and enzymes that contribute to the production of collagen - a protein that is responsible for the firmness and density of the skin. METAMYKS contains coenzyme Q10, amino acids, polysaccharides, phospholipids, organic and fatty acids, vitamins B, D, F, E, macro- and microelements.


COCAMIDOPROPYL BETAIN

A mild detergent base derived from coconut oil. Promotes gentle cleansing of the skin, forms a rich, gentle foam, which is easily washed off. Does not dry out the skin.


SEAWEED

Seaweed is distinguished by its rich composition, which contains omega-3 PUFAs, polysaccharides, vitamins, and minerals. Algae-based products intensively nourish the skin, stimulate metabolic processes, improve blood circulation, help normalize the acid-base balance, and promote accelerated regeneration. Great for sensitive skin prone to dryness and irritation.


MODE OF APPLICATION

Apply the gel on wet skin, foam with light massage movements and rinse thoroughly with water.


STORAGE METHOD

Store in a dry place, protected from sunlight and inaccessible to children, at a temperature not exceeding +25° С.


SHELF LIFE

2 years from the date of production
YOUR CORAL CLUB CONSULTANT
INDEPENDENT DISTRIBUTOR IN CANADA
LEONID MATVIJENKO
Coral Club in other countries