For modern man, parasites are a huge problem. Many say that it is not necessary to undergo antiparasitic programs, since the body is clean. But, this is far from the case. According to WHO statistics, every second person on the planet earth is infected with parasites, bacteria, viruses or fungi.

Parasites live for a long time, produce toxins, weaken the immune system, provoke the development of various diseases.

The main signs and first symptoms of the presence of parasites in the body are fatigue, weakness, asthma, cough, rash on the skin, nausea, vomiting, frequent constipation, diarrhea, pain in the abdomen, grinding of teeth, snoring, often itching around the anus.

For adults, it is desirable to carry out cleansing from parasites 2 times a year, for children under 12 years old once a quarter.

Depending on your health goals and objectives, your personal consultant will select the antiparasitic program you need. To do this, contact a personal consultant.

Coral Club has developed flexible and versatile kits that will help you get rid of "uninvited guests" and restore your health.
Parashield
The
Parashield
program serves to prevent and create unfavorable conditions for parasites, fungi and bacteria. This program consists of plant nutrients that do not harm the body, unlike pharmaceutical antiparasitic agents.
The set includes 5 products: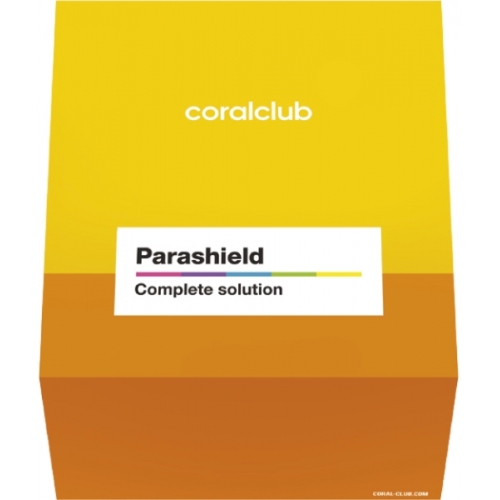 Parashield Plus
The
Parashield Plus
program is an extended version of the body's cleansing of parasites, lasting two months. The complex action of plant nutrients included in this set helps to strengthen the immune system, the growth of beneficial bacteria and the restoration of the digestive tract.
The set includes 8 products: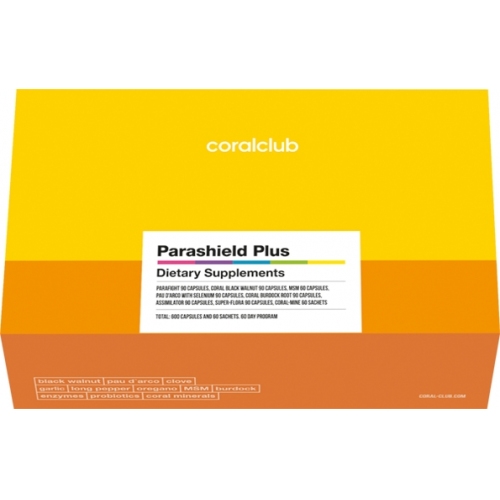 Set of customized products
A set of individual products, in contrast to the above programs, has a wide range of action - it cleans not only parasites and bacteria, but also fungi and viruses. The cleansing course lasts a month and is designed for one person.
The set includes 7 products:
Prevention
With the help of the above programs, you can prevent the development of the following diseases:
Anemia (anemia). It is caused by a decrease in the number of red blood cells and hemoglobin in the blood.
Allergies. Parasites can cause disturbances in the functions of the gastrointestinal tract, which is the cause of allergic reactions.
Urticaria, rashes, eczema and other skin reactions caused by intestinal parasites.
Bruxism - clenching and rubbing of teeth often accompanies many parasitic infections.
Arthritis. Pain and inflammation of the joints are the result of tissue injury by certain parasites.
Recommendations
During the passage of cleansing from parasites, observe the drinking regimen. In nutrition, give preference to fresh, frozen berries and vegetables, fresh herbs, whole grain cereals, meat dishes without sauces and flour sauces. Use olive oil for dressing salads.

Sweet foods should be excluded from the diet, including honey, dried fruits, muffins, ice cream, coffee, alcoholic and sweet carbonated drinks, lard, salted and dried fish, meat, white rice and wheat flour.
YOUR CORAL CLUB CONSULTANT
INDEPENDENT DISTRIBUTOR IN GREECE
VALENTYNA PONIATOVSKA
How and where to buy
With a discount card you can buy Coral Club products with a 20% discount in Greece. To get a free discount card, click on the button «Registration with Coral Club», fill in the form and you will receive by mail your customer number and a link to the website where you can place your orders.

With this discount card number you can also buy products at a discount in other countries.

After registration I can become your personal consultant. I can tell you how to start your recovery and can advise you on how to use the products of this program, or other programs and/or products from Coral Club. I can also help you place an order on the company's online store.
Coral Club in other countries